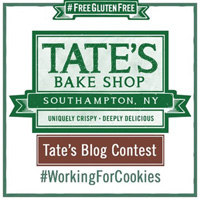 What could be more fun than cookies? How about promoting a cookie contest! As we brainstormed ideas, MAXComPR got the chance to taste-test lots of freshly baked Tate's gluten free cookies (cry for us emoji). Surrounded by bags of delicious Ginger Zingers, Chocolate Chip and Double Chocolate Chip cookies, we thought, wow, we don't even need to get paid, we could work for cookies! And a campaign was born. 
Welcome to the Tate's Bake Shop Gluten Free Cookie Contest #WorkingForCookies.
Calling ALL gluten-free bloggers, vloggers and foodies! Tell us why Tate's Bake Shop cookies are the best treat. Enter the contest @TatesContest for a chance to win $2,000 and a year's supply of Tate's Gluten Free Cookies! Facebook.com/tbc.rules
Good luck everyone!
-Anna Schryver