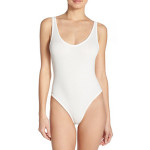 One of the best things to come out of the 80s is the bodysuit. This universally flattering garment is back in abundance and it's still an essential wardrobe staple.
Back in the day, I was introduced to the bodysuit by Lois Joy Johnson, the dynamic former beauty and fashion editor of Ladies' Home Journal, who went on to found More magazine and reinvent herself again as author of the "Wakeup" series of books on beauty and fashion and an AARP blogger.
I'll never forget, sitting in her office, how absolutely giddy she was over this sleeveless wonder. Versatile, comfortable and best paired with a jacket, she counseled me on the bodysuit's endless career wear attributes and its day into night possibilities. This was THE investment-worthy purchase of the day.
When Lois spoke, I not only listened, I hung on her every word (still do!). I left her office and immediately ran to a Madison Avenue boutique where I purchased a very expensive bodysuit. Pre-primed by a top fashion influencer, I eagerly embraced a $200 cream-colored cotton and silk bodysuit. A small fortune on my salary, I nevertheless agreed with the saleswoman that I would not regret my purchase for a single second.
She and Lois were right. I still wear that bodysuit today with low-cut dresses and under jackets. Well constructed of quality fabric, it still looks like new and is more relevant than ever. Unlike today's fragile fast-fashions, this elegant top is surprisingly durable and has stood the test of time. I wish some of my other 80s favorites had the same staying power.
My fire engine red zip-up jumpsuit still fits beautifully, but its gas station attendant styling is clearly outdated and the fabric has seen better days. I could say the same for my black Lloyd Allen jumpsuit. Oh how I loved wearing that slightly baggy silhouette made of thin sweatshirt material and with big silver snaps across the shoulders. Talk about comfort!
But, alas, what looked great in the 80s doesn't necessarily look good now. That's why I'm really happy with my latest purchase — a fantastic skintight, black cotton jumpsuit that hugs my curves like a union suit on a cold winter day. Paired with a big, chunky cashmere sweater and boots, it's the perfect apres-ski look. From bodysuits to jumpsuits, reliving the 80s isn't all that bad, after all!
-Jennifer Bebon